The Newton Farmer, June 2011
download a .pdf


Dear Farm Friends,
As you will read below, the season has started with a rush of abundance on the farm. I am trying to cope with that abundance at home by making huge salads and by steaming and then freezing chard and other such greens. Now I need to start hanging up bunches of herbs to dry when I have more than I can use quickly. Happy munching and happy summer solstice!
Your editor,
Susan Tornheim
sftornheim@yahoo.com
sftornheim@yahoo.com
---
Notes from Greg Maslowe, Farm Manager

The mad rush of June is on. We're harvesting five days a week for our various markets, which are now all open: farm stand, farmers' market, food pantry, and CSA. But we're still in the thick of planting season, with many of the hot-weather crops still going into the ground: tomatoes, peppers, eggplant, cucumbers, summer squash. Not to mention all the ongoing planting, in the field and in the greenhouse, to ensure that we have a steady supply of lettuce, herbs, and greens throughout the season and to prepare for our fall plantings.
As if harvesting for four markets and being in the middle of planting season isn't enough, the combination of very hot weather with rain is making for a great crop of summertime weeds. Those banes of all gardeners—pigweed and purslane—are growing like crazy. Good thing Oprah has let out what many NCF supporters already know—purslane is actually tasty and incredibly good for you. Now if only she'd do a feature on the benefits of pigweed, we'd be able to skip all our seeding and transplanting and just let the weeds grow! Pigweed, AKA amaranth, is grown for both its leaves and for grain in many parts of the world. Here, it goes onto the compost pile.
As you visit—or drive by—the farm this season you may notice something different from years past: rows of plants growing on black plastic. We're doing what's called "trialing" in farming. That is, we're testing a new product (or seed variety) to see how we like it. I've avoided using plastic for a long time, but there's a new brand out that doesn't just break down into little bits of plastic as many older "biodegradable" plastics did. This one, being plant-based, actually decomposes. So we're giving it a try. Growing on plastic has many advantages. It heats up the soil more quickly than bare soil, and it allows you to cover the soil earlier than you could if you were using straw or leaves as a mulch (because it actually heats the soil, whereas straw and leaves keep it cool). It also does a better job at suppressing weeds. We'll see what we think at the end of the season. We're using it not just for tomatoes but for our eggplant and peppers as well. I hope it pays off by increasing our yields and saving us time weeding.
Greg Maslowe
---
Summer Programming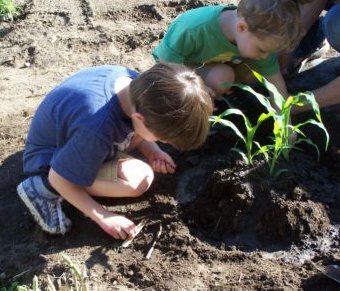 Thanks to everyone who came out for a class or two on the farm this spring. It has been a busy season! So far we have built worm composting bins, learned about growing in small spaces and raising backyard chickens, and more. We also started our popular Ready, Set, Grow series for young children and their parents. The class participants built a new sunflower house f
or all to enjoy this summer. We are happy to report that the sunflowers are alive and growing―make sure to track their progress as you walk through the learning garden this season.
Looking ahead, we still have openings in all three of our summer camp programs for youth entering grades 3 to 9. You can read about them on our Web site. Our Farm Sprouts story hour for preschoolers begins July 12 and repeats every Tuesday until August 23 from 10 to 11 a.m. The cost is $5 per family group. Read more here.
We are also offering adults and older kids an opportunity to get up close to what we have growing in our fields throughout the growing season. One evening each month our farmer, Greg, will lead a field walk through the various growing spaces at Newton Community Farm. If you have ever wondered what is actually going on out in the field, or how we manage to grow so much sustainably on such a small space, or if you have a garden of your own and want to compare notes, this is a relaxed and informative evening you won't want to miss. Read more about our field walks here.
You can contact our education coordinator, Kelly Lake, directly:
email: Kelly Lake education@newtoncommunityfarm.org
phone: 617-916-9655
---
Event: Strawberry Solstice
Family Event
Sunday, June 19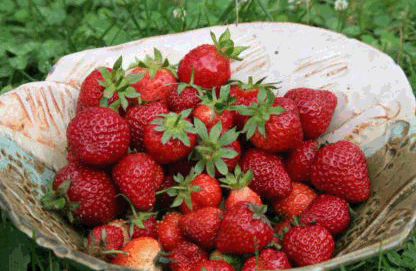 Come celebrate Father's Day and the summer solstice with us! We'll have strawberry- and sun-themed activities such as making your own sundial, planting sunflowers, bubble printing, creating your own musical instruments, and taking part in relay races. There will be fresh strawberries and desserts for sale.
Sunday, June 19
1-3 p.m.
At Newton Community Farm
Ages: Preschool-3rd grade, with adult
Fee: $5 per family
Click here for a PDF of the event flyer
---
Seedling Sale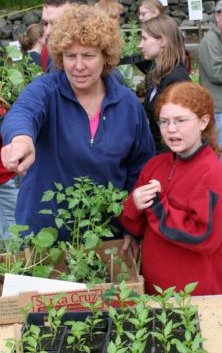 The farm celebrated the beginning of the growing season here in New England with its third annual Seedling Sale. This year we expanded the event to two afternoons, and despite some gray and soggy weather the event was a great success. We sold most of the 20,000 seedlings we had for sale, all of which were grown right here on the farm (except for some basil seedlings―thanks to Natick Community Farm for growing those for us!). For those of you who made it out and purchased some plants, we hope they are tucked into their new homes and adjusting nicely. If you need some growing tips, check out our online resource that we started this year.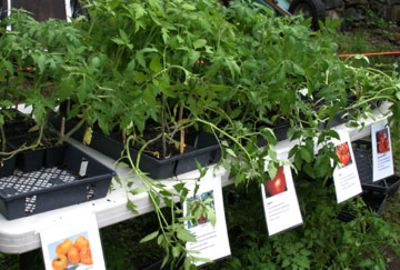 This event would not have been possible without a dedicated and energetic group of volunteers. A special thanks to those who worked on this event: Barbara Andersson, Peter Barrer, Judy Nichols, Claire and Dan Caine, Maresa and Derek Weems, Valori Treloar, Anne Drowns, Karen Emmons, Sam and Margaret Fogel, Paul Garrity, Linda Huang, Ruth Lederman, Ken and Margaret Mallory, Mithra Merryman, Becky Mosher, Mark Rosen, Anne and Burke Ryder, Patrick Bassett, Kathe Shaw-Basset (and your great kids!), Dede Vittori, Elaine Whalen, Alexandra Ananth,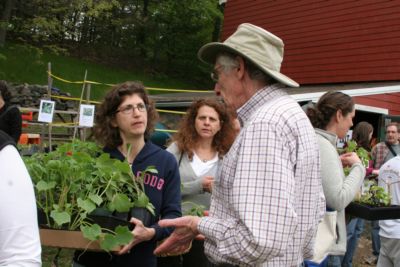 Amy Sellke, Caroline Kerrigan, Carolyn Arond, Ellie Huberman, Ed and Jenny Craddock, Jerry Regosin, Lucy Stair, Macy Tubman, Ruth Nussbaum, Trudy Lanman, Rick Dinjian, Josh Nichols-Barrer, Carol Chapman, Cathy Chapman, Humi Vishniavsky, Sam Cohen, and of course our amazing farm staff: Greg Maslowe, Megan Talley, and Kelly Lake.
---
A Light Supper… and watch the sun set
Our favorite farmer, Greg, and the Board of Directors invite you to spend an Evening on the Farm with us on Tuesday, July 19, from 6:30 to 9:00 p.m. Come anytime during that period, stay as long as you wish, and share a light supper of wine, cheese, crudités, salad, country bread, pita, beer, and more. If the scenery alone doesn't cool you, perhaps music by the Dixie Butterhounds will.
This is a fundraiser to help us expand our educational programming. Reservations are $30 per person, with at least 50% expected to be tax-deductible. Friends of the Farm will receive a 30% discount―$21 per person. If you have thought about becoming a Friend but just haven't done it yet, sign up now on our Web site and take advantage of this benefit almost immediately. Other information and benefits are listed there. (Our other fundraising event is a multicourse dinner at Lumière Restaurant in West Newton in October.)
If you'd like to help create this event, contact Jerry at 740-503-2669 or jregosin@aol.com.
Our capacity is limited, so make your reservations soon. Last year we had to turn people away from a more formal dinner. In case of rain, we will assemble in the barn―more crowded but definitely a worthwhile evening.
Jerry Regosin
---
Nahanton Park Update
In March Jeff Collins of Mass Audubon presented the initial inventory for the Nahanton Park Natural Resources Inventory and Management Plan Study. This four-season study, sponsored in part by the Newton Conservators and Newton Community Farm, is meant to present an overall picture of how Nahanton Park is used by visitors and the type of natural habitat it offers for wildlife. The goal of the study is to provide a plan for how this habitat can be preserved while also enhancing the enjoyment of human visitors to the park.
Newton Community Farm is hopeful that the study will show that our proposal to use some land at Nahanton Park for farming is consistent with both goals. In the coming months we intend to present Mass Audubon with some ideas and proposals to show how our presence at Nahanton Park would be beneficial to all users of the park, including its natural inhabitants. If you have any ideas or comments about how our use of land at Nahanton would benefit the park, please send your thoughts in an e-mail to newtoncommunityfarm@comcast.net.
Rick Dinjian
---
Recipes
As I'm sure you have noticed, we're in the midst of early season greens. Chard, spinach, arugula and lettuce are filling up my CSA share, so I've posted a recipe for a salad that's based on raw spinach and includes lots of other goodies. Look for Spinach Salad – Meal in a Bowl on the farm list of recipes.
Click here for the farm's list of recipes.
Susan Tornheim
---
Farm Stand Hours
Tuesday through Friday, 2-7 p.m.; Saturday, 10 a.m. – 2 p.m.
---
Volunteer Hours
Wednesday, Thursday, and Saturday from 9 to 12 starting the last week of April.
---
Wish List
bookcases for our expanding educational library
small totes or boxes with lids for educational materials
If you can help us with any of these items, please contact Greg Maslowe at 617-916-9655 or at greg@newtoncommunityfarm.org. We are a 501(c)3 organization. Your donations may be tax-deductible. Thank you for your support!
---
Please contact us if you have any questions about this newsletter or ideas for future issues, or if you want to be added to our mailing list. Just e-mail Susan Tornheim at sftornheim@yahoo.com. For more information about the farm, e-mail Greg Maslowe at greg@newtoncommunityfarm.org or check out our Web page at newtoncommunityfarm.org (or click on the image at the top of the page).